A Conversation Across Races: Our Own Work and How to Honor Each Other
Thank you so much for making the decision to join us live on Nov. 9th in honor of Native American month. This is such an important dialogue and conversation and we are excited for you to be with us.
Check your email inbox and make sure our email from team@foursacredgifs.com arrived in your inbox (and not your spam folder.) If the email ended up in your spam folder, mark it as "not spam" so our future emails come directly to your inbox. For Gmail users, move the email from your "Promotions" tab to your Inbox.
Mark your calendar now for one hour and plan to be fully present. There will also be an opportunity to ask questions at the end. The call access information is below. Plus, we will send you an email reminder the day before the live call.
Tuesday, November 9, 2021 at 9 am PT / 10 am MT / 11 am CT / 12 pm ET
Join us on Zoom: https://zoom.us/j/3740702516
Meeting ID: 374 070 2516
Passcode: 110921
Our goal is for this to be a safe space where four transformational leaders representing four different races can come together, listen to each other, and seek solutions for how we can live in unity and peace. And, we thank you in advance for coming with an open heart and open mind and listening with the softest part of your ear!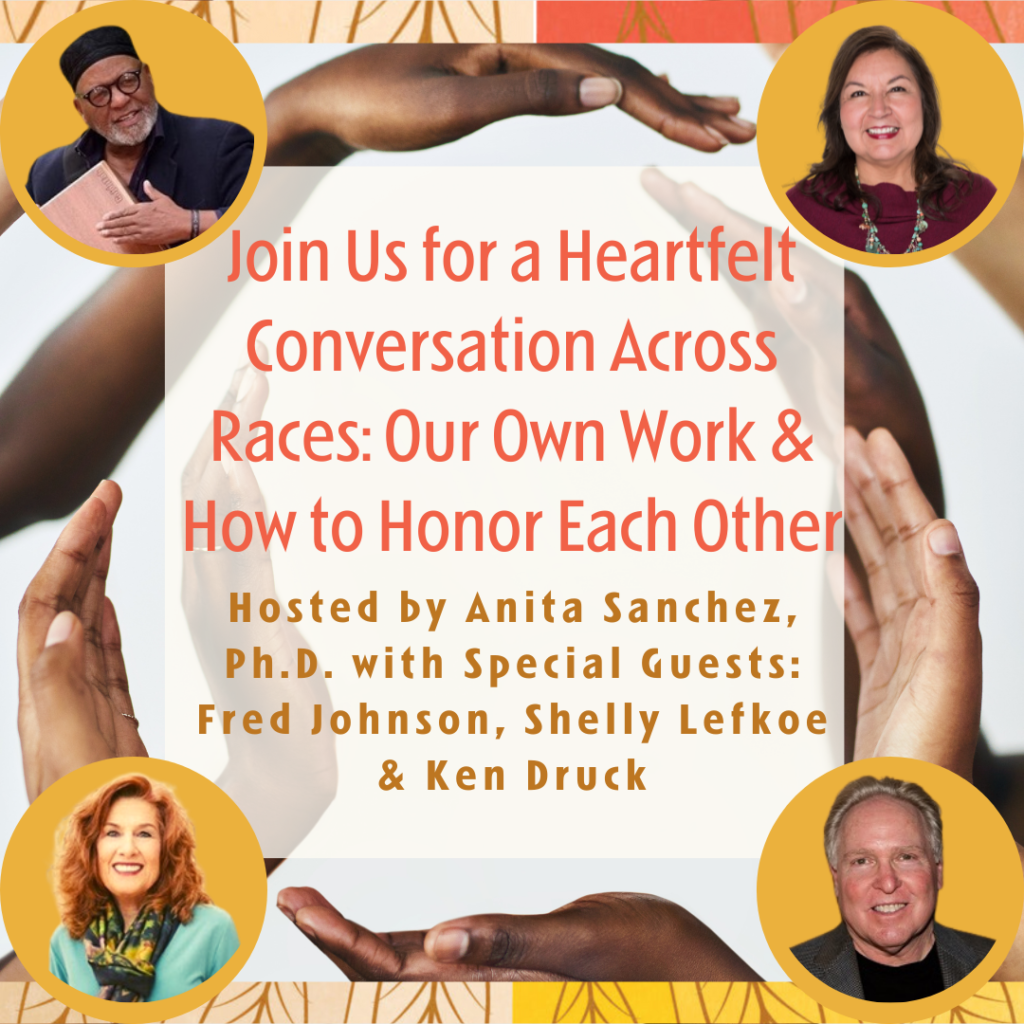 What People Are Saying
About Anita Sanchez Ph.D.
"Heart-stirring, hope-kindling, deeply inspiring, and always loving, Anita conveys four invaluable gifts from our Indigenous elders and a treasury of spellbinding stories of the gifts transforming lives. Powerful wisdom delivered with loving guidance by a brilliantly courageous, far-sighted messenger."
"I have worked with Anita, through Sanchez and Tennis Associates, for over 15 years. She has been a key partner to me on a variety of strategic HR initiatives including diversity and inclusion, organizational change, executive coaching, and employee engagement. Anita brings amazing insights to her work, as well as expertise in a wide array of methodologies and approaches."
"Dr. Anita Sanchez reveals how ancient Indigenous wisdom can transform us today by helping us find our true purpose, heal past hurts, and create deep connection."
"Anita's voice resonates with authenticity and power. Her storiesare rich and full of soul lessons about courage, resilience, and vision. The Indigenous gifts offered here take us to higher ground: Forgiveness, Healing, Unity, and Hope. This is the medicine that we, and our entire society, have been craving."